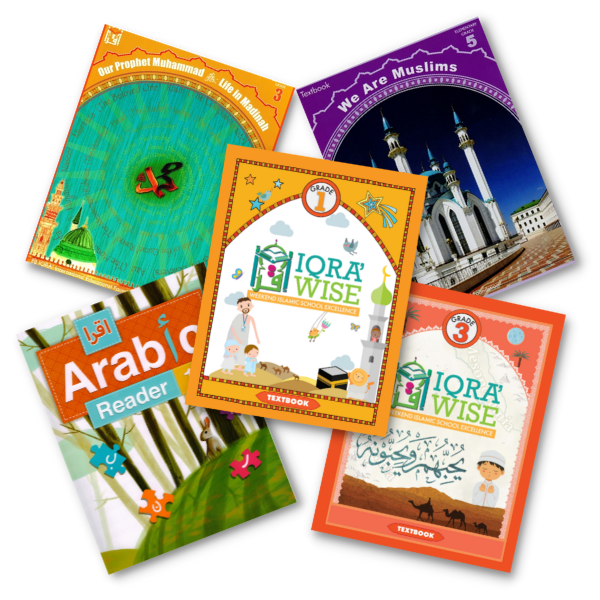 Innovative Curriculum for Weekend & Full Time Schools
The IQRA' International Educational Foundation is a well-established name in the Muslim community worldwide for publishing quality Islamic school textbooks and educational materials.
Continue reading below or request a quote to get these books for your school.
Request Quote
IQRA' WISE (Weekend Islamic School Excellence) is a unique Islamic Studies series that offers 5 subjects in 1 book! This program takes a fresh approach to the Islamic curriculum in the elementary classroom. IQRA WISE navigates students through complex concepts by keeping content age-appropriate and following strict readability guidelines to ensure students are able to read and comprehend the text on their own.
Textbooks, Student Workbooks and Teacher's Guides are available for each level.
Other Books from IQRA Foundation
We Are Muslims

The 'We Are Muslims' series nurtures the holistic development of a young Muslim's spiritual life through 5 themes: Muslim identity, Iman, Ibadah, Halal & Haram, and Akhlaaq. 

View Books

Seerah and Hadith

The Seerah Series from IQRA brings into focus the aspects of Prophet Muhammad's character and habis and encourages students to reflect on his life and to practice his moral character with engaging activities.

View Books

IQRA Arabic Reader

IQRA's Arabic Language Program is designed to teach students Arabic as a second language by covering the four language skills of reading, writing, listening, and speaking.

View Books
Key Features
Weekend & Full-Time Curriculum

The IQRA curriculum is flexible and allows schools to decide which books they teach to their students. The curriculum can be used for both weekend and full time schools.
Character Building

The curriculum focuses on building identity, tarbiah, character, and follow the guidelines of Qu'ran and Sunnah. 
Practical Learning Points

The IQRA program is based on in-depth learning vs. hands-on learning.
Contact us today to adopt the IQRA curriculum and receive for a quote for your School or Masjid with our attractive school discounts.